Emerald mines is your collection of "Emerald Mines" games.
The most complete one around, we might add :-)
Emerald Mine is a popular BoulderDash-like game that originally was released in 1987 for the Amiga by Kingsoft
It was originally written by Klaus Heinz and Volker Wertich
Since then, the game inspired people from all over the world to design new levels and create countless spin-offs and clones.
The main purpose of this site is to archive all released Emerald Mines disks for the Amiga.
However, this site also stores other Boulderdash Clones for the Amiga, and maybe in the future for other platforms as well.
If you want to play these games, go
get yourself an Amiga
, or - more probable -
use an emulator
.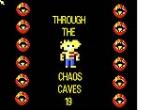 Sandancer (Bryan Waters) , the ultimate digger for Emerald mines, went to pick up the physical disk archive of his friend Denis F and look at that: amongst the disks where the long lost Chaos Caves 19, 20 and 21, making the Chaos series complete.
Many many thanks, Bryan!
Posted by Steffest on 3/8/2018 9:03:31 AM